Last 24th of September took place another "European Researchers' Night", a Europe-wide public event that aims to bring the diverse science fields closer to the society in a funny and easy way. This year, more than 300 cities in 29 different countries participated proposing activities and experiences.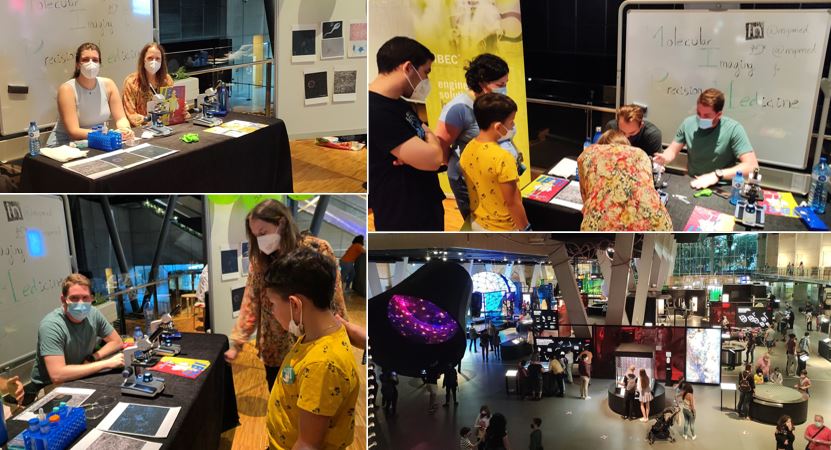 Researchers from BLOC project and the Molecular Imaging for Precision Medicine group at IBEC, Irene Marco-Rius, Alba Herrero, Marc Azagra and Gergo Matajsz, took this opportunity to explain why imaging plays such an important role in science. They participated in a Research Fair promoted by "La Caixa Foundation" that took place at the  Cosmo Caixa Museum in Barcelona. More than 100 people had the opportunity to learn about imaging techniques and their influence on their daily lives, experiencing science in first-hand thanks to family-friendly activities and experiments, and live demonstrations.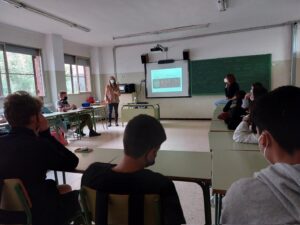 Additionally, Irene Marco-Rius participated in another initiative called "The research morning", also in the frame of "Researchers' Night" but oriented to schools. She gave a talk at the Bernat Metge high school for twenty 16 year-old students. The topic was "what's like to investigate in molecular imaging" and among others, she explained techniques such as nuclear magnetic resonance and bioengineering to the students, who showed lot of interest by asking many questions. These kind of events are also important to clarify stereotype concerns about the figure and life of scientists and helps to create scientific vocation among young people.
The European Research Night is a European scientific dissemination project promoted by the European Commission within the framework of the Marie Skłodowska-Curie actions of the Horizon 2020 program.